2019-11-22 (金) 18:00~00:00
EVENT
BS06SB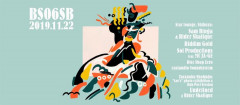 http://bs0.club/bs06sb
::::::::::::::::::::::::::::::::::::::::::::::::
Star lounge: 24:30 open
Sam Binga & Rider Shafique
Riddim Gold (Irietty, GUNHEAD, Mars89, UKD and 1TA)
Soi Productions ft. MC JA-GE
Disc Shop Zero
eastaudio Soundsystem
::::::::::::::::::::::::::::::::::::::::::::::::
Toranoko Shokudo: 18:00 open
"LOC'S" photo exhibition & Dub Poet Session
Undefined x Rider Shafique
::::::::::::::::::::::::::::::::::::::::::::::::
Friday 22nd November 2019
Star lounge, Shibuya (24:30 open)
Toranoko Shokudo, Shibuya (18:00 open)
::::::::::::::::::::::::::::::::::::::::::::::::
MAKE BxxSx0x xHIT AGAIN"——BS0 comes back after 2 years of silence.
"BS06SB" will be held on Friday 22nd November, with guests Sam Binga and Rider Shafique, one of the most popular combinations in the current forward-thinking UK dance music scene.
Sam Binga's productions have created a new sound, connecting the leading edge of UK dance music (dubstep, jungle / drum & bass, uk garage, grime, dancehall...etc), one which is highly appreciated not only by listeners and audiences but also by other scene-leading DJs and producers.
Rider Shafique, originally known for his work with Pressure Drop Sound System, has worked closely with Sam Binga for over 7 years, and has been steadily building his profile as one of Europe's foremost MCs and poets. Featuring on over 10 tunes this year already, his performance on Swindle's "What We Do" became a focal point of a major Apple campaign, while in the live arena, he has toured worldwide, and regularly performs with Mala's Deep Medi crew.
Also appearing at the Shibuya Star Lounge - the main venue for BS06SB - will be Riddim Gold, known for their Mutant Dancehall sounds, which build on, yet go beyond, a foundation of Grime. And closing the party will be Soi Productions - the undisputed number one jungle crew in Japan.
As always, this BS0 event will be powered by the mighty eastaudio Soundsystem for a full 5 hours of intense musical experiences, and the Disc Shop Zero team will even be curating a pop-up shop behind the speakers - heavyweight vinyl for a heavyweight night!
Besides performing musically, we are proud to announce that Rider Shafique will also be bringing his photographic exhibition 'Locs' - an exploration of the beauty and meaning of African hair in Britain - to Tokyo for the first time. This will take place a minutes walk from the Star Lounge, in the Toranoko Shokudo, and will also feature a live session of Rider's poetry, alongside improvisations from his experimental Japanese collaborators Undefined - a unique performance building on their work together on highly respected American reggae label Zam Zam Sounds.
BS0 has organized five events from 2015 to 2017, each bringing a different aspect of Bristol's sound and spirit to Tokyo. How will the experience gained in each crew's activities during these two blank years be fed back to you? Join us to find out how "BS06SB" will add another chapter to this amazing story of the Bristol / Tokyo love affair.
::::::::::::::::::::::::::::::::::::::::::::::::
adv. 3000yen
Door 4000yen
※need to pay 600yen for 1 drink at Star lounge
only for "Loc's" 2000yen
::::::::::::::::::::::::::::::::::::::::::::::::
BS0 e-ticket https://bs0.zaiko.io
ローソン Lコード:74523 https://l-tike.com/order/?gLcode=74523
イープラス eplus.jp https://eplus.jp/sf/detail/3127100001-P0030001
Livepocket https://t.livepocket.jp/e/n3zub
OZAWA(祐天寺) ※店頭のみ
新宿ドゥースラー ※店頭のみ
虎子食堂 ※店頭のみ
Glocal Records ※店頭のみ
Dub Store Record Mart
Disc Shop Zero http://dsz.tokyo/bs06sb
::::::::::::::::::::::::::::::::::::::::::::::::
🏤スターラウンジ Star lounge
渋谷区宇田川町4-7 トウセン宇田川町ビル1F
🏤虎子食堂 Toranoko Shokudo
渋谷区宇田川町10-1 パークビル2F
::::::::::::::::::::::::::::::::::::::::::::::::
"Debo" artwork by OTANIJUN
http://otanijun.com
::::::::::::::::::::::::::::::::::::::::::::::::
http://www.bs0.club